Its June and yet another year has passed by. June also means I have a trip coming.  But first let me confess. I have been putting off this trip to Japan for various reasons like the language, food, crowd, confusing metro lines etc. only to realize now that I should have done this way back. Yes Japan is wonderful and I mean it! Mid June we did a small trip of less than a week to Tokyo and if you are like me who has postponed Japan continue reading and see what you were missing.
I am going to keep it short and simple by telling you what exactly we did, where we went and what we did and the pics will do the talking for the rest. I did a post in Instagram right after the trip and I think that  sums up my whole experience.
VISA
A visitor who wish to enter Japan for short-term stay, must obtain a Temporary  visitor's visa prior to departing for Japan, except nationals and citizens of visa exempted countries. Indian travelers require a valid visa before entering japan which can be applied at the Japan Embassy. We applied at The Embassy of Japan in Singapore two weeks before our travel date. You will have to make sure to have the following during the time of application.
A filled up visa form. The form can be downloaded from the Embassy of japan website. Here is the link http://www.sg.emb-japan.go.jp/visa_shortterm.htm
A valid passport.
Flight itinerary. Details of your round trip flight.
Certificate of Employment.
Bank account details. A latest bank statement that shows a minimum account balance of at least SGD 3000.
Hotel accommodation details.
Visa processing time is around 5 working days and costs SGD10. (Soo cheaaap :D!!)
FLIGHT
Aj travelled first to Tokyo for his business meeting and I joined him 2 days later. We chose to fly with Singapore Airlines because of the timing as well as because they are my favorite. The flight to Tokyo from Singapore took 7 hours . SQ flights are rarely delayed so I had a pleasant trip to Tokyo with brunch on air.
HOTEL
We stayed at Akasaka Excel Hotel Tokyu at Akasaka Mitsuke as it was convenient for him. Akasaka Mitsuke is one of Tokyo's high class districts with many grand hotels, variety of restaurants that serve all the cuisines of the world (We even spotted a Turkish restaurant here). Let me tell you we didn't face any difficulty for food options here and they were all delicious.
Before the trip
There are certain things that we felt helped us a lot in our trip to Japan. To make your travel easier make sure to carry the following.
Pocket WIFI – We rented ours from Changi Airport Singapore for SGD6/day. We will highly recommend this as most of the directions in Japan to stations and places of interest are in Japanese, so in case you want to use Google maps this will come handy. You can book online here
Suica/ Plasmo card – Similar to ez link or metro card, it can be used for travel in trains as well as for shopping. You can purchase it at any metro stations in Tokyo or buy online here.
Metro Map in English – Remember to print a map online or you can grab a copy at the Airport metro station.
Battery pack – Long days of travel, battery pack is a must to travel anywhere isn't it?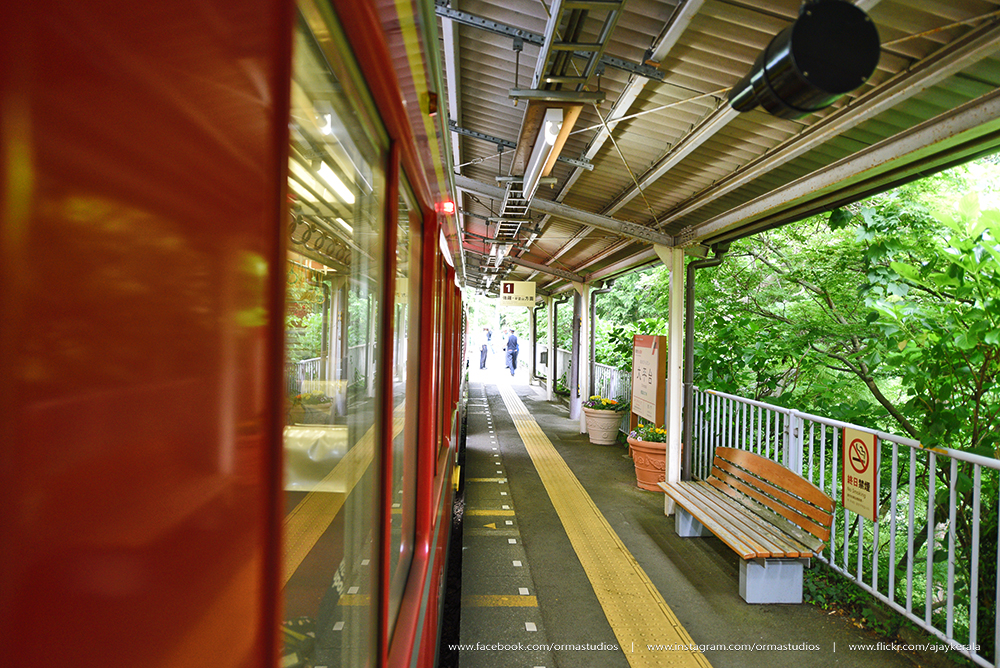 Our Japan Itinerary
Day 1
My SQ flight to Haneda Airport, Tokyo landed at 4 pm. I made my way to the immigration which was a breeze. I didn't have any checked in baggage as Aj travelled before with all our bags (:D) and came out of the airport within 15 mins. That was a first!! Now there are a few options to travel to the city from the airport.
Airport Metro – well connected to all parts of Tokyo, may need transfers from certain stations. You can see the distance and calculate the fare to your destination from this website.
Airport Limousine bus – the ticket counter is right outside the airport Exit. The bus departs at specific timings to most of the major hotels in Tokyo. For details check here.
Taxi – Flat rate taxi services are available. Check here for rates. Limousine bus is a convenient way of travel provided your flight arrives around the time of bus departure. Sadly mine arrived 2 hours earlier than the next bus service and hence we chose the Metro.Getting to Akasaka Mitsuke by train or monorail. We boarded the monorail (Keikyu Line) to alight at Shimbashi Station. Transferred to Ginza line and alighted 3 stops later at Akasaka Mitsuke. How convenient! My first experience was definitely overwhelming because It was way crowded than I imagined and a pain to look for transfers and to make sure we alighted at the right station but once I got the hang of it it was easy. I travelled alone the next day with much ease compared to the first day. If in doubt always ask. I found the Japanese always polite and ready to help.Akasaka Excel Hotel Tokyu  
The hotel is strategically located right next to the Metro station with barely 3 minutes walk. It had all amenities nearby including a supermarket downstairs.  Our room was tiny but clean.    In the evening we had dinner with his  friends at Ten ichi Ginza restaurant. Ten ichi is the best Tempura restaurant in Ginza. They chose a Tempura restaurant knowing my aversion(which changed by the end of the trip) to the local cuisine. How thoughtful of them. It was an experience and a first for me. The food tasted delicious. No wonder this place had patrons all over the world including Bill & Hillary Clinton.
Day2                                                                                                                                                                                                                                     I spent the day visiting Ueno Park in the morning, a traditional Sushi lunch and met Aj in the evening at Tokyo Sky tree. Even though Tokyo offers many skydeck options for city views the Skytree is a must visit. It is conveniently located near Oshiage Metro Station in Hanzomon line. It is the tallest building in Tokyo with an observatory one at 350 metres and the other at 450 metres. It also has restaurants and cafes to hangout. You can purchase the tickets at the counter in Level 4. The rates are here.
There is no time limit here and you can enjoy the views until the closing time. We went around 5 pm and there was no queue. If you get a chance to go there in the morning look out for Mount Fuji! We chose evening as we wanted to catch the sunset and see the transition of the sky to night. To be frank I don't enjoy such towers much. The initial excitement dies after a few minutes and it has nothing else to offer other than the panoramic views. But if you are accompanied by a photo enthusiastic like my husband then you don't have a  choice. People watch until he finishes his daylight/nighttime shots,time lapse, videos,selfies and whatnot!!
Tokyo Solamachi is a shopping mall  located next to the Skytree. We fixed our dinner and dessert here. I specifically mentioned dessert because Japan is a dessert heaven. And on the days I spent there I made it a point to try out their cheesecakes, Mochi, cheese tarts, pastries and all things sweet. Dessert cafes are everywhere, even supermarkets stock up a lot of ready to eat desserts that could fix your midnight craving.
Day 3
Since the husband is not working we began our city exploration in the morning. We had plans to visit Hakone the next day so went to Shinjuku station to get the tickets. Now Shinjuku station is HUGE. It is quite easy to lose your way among the hundreds of exits it has but it is also easy to find places if you follow the directions. Afterall, it is the world's busiest transport hub! To buy tickets to Hakone we went to Odakyu Sightseeing Service Centre (a national Tourism Organisation)  located at Shinjuku station. Once you arrive in Shinjuku Station, take the west exit to the ground floor to arrive at the Sight seeing centre. We purchased a 2 DAY PASS(though we did a 1 day trip) . The Pass includes 1 round trip journey to Hakone from Shinjuku and unlimited travel on eight major transportation options such as  buses, trains, cablecars, pirate ship and ropeways. The best thing about getting a pass is that you do not have to queue up again at individual transport counters to get your tickets and thus save your time.
We also purchased Limited Express Romance Car ticket to Hakone. It is a train ticket that covers the journey from Shinjuku to hakone in a reserved seat in a limited express( less stops) train that has observation decks to view the beautiful countryside in the route. Our Hakone 2 day free pass already covers a round trip journey to Hakone in an odakyu railways train i.e, a regular train that has many stops and in which seats are not reserved. The day we chose to travel to Hakone was my birthday so the husband decided to pamper me hence the romance car 😀
You can purchase Romance car tickets at the Sight seeing service centre or online. As we already purchased the 2 day free pass we had to top up a sum of 890 per pax for a 1 way ticket. Once the tickets were sorted, we headed to the Meiji Shrine.
Meiji Shrine
Located near to Harajuku Station( JR Yamanote line), it is a shrine dedicated to the deified spirits of Emperor Meiji and his consort. Entrance of the huge area that surrounds the shrine is marked by a Torii gate.
Takashita Street
It is a shopping street located near to the Meiji Shrine that stocks all kinds of trinkets. Plenty of shops offer discounts on shoes, clothes, bags, jewellery, etc.and it is very crowded.
Shibuya
We took JR Yamanote line to Shibuya. Of course the pedestrian crossing at Shibuya is world famous but there are a lot of other activities to do apart from the crossing. For those who haven't heard about it Shibuya Crossing is a pedestrian crossing where the locals cross in large numbers.It is famous because the amount of people who cross at a time is huge and is a sight in itself. You can also go to  Starbucks located across the crossing and watch this from level 2 which we did. Exited and had coffee elsewhere because I hate Starbucks.:mrgreen: You can also head shopping to the many malls around the crossing. Shibuya 109 has affordable Japanese fashion.
Day 4
Hakone 1 day Trip
Hakone day passes are for a min of 2 days/3 days. It makes sense if you stay there for a day or two for using the day pass to its full potential. But since we didn't have many days in Tokyo we cut short it to a day trip and it is doable. If you can start early from Tokyo you will be able to make use of all the transport options and sightseeing in a day sans shopping at Gotemba (we tried but couldn't make it). In my opinion this is not the best way to see Mt. Fuji. We travelled in June and the weather was not in its best so it only made sense to go to Hakone and enjoy the day. Hakone day pass includes a few modes of transport as I mentioned earlier.
A    To Hakone Yomoto Station
Tokyo to Hakone by Local train
Tokyo to Hakone by Limited Express Romance Car
B  Hakone Yumoto to Gora station.
Hakone Yumoto is the final stop of romance Car.Once you alight the train you will able to find the hakone Tozan train in the nearby platform heading to Gora station. It is a scenic ride and we enjoyed it.
C  Gora station to Sounzan station
Do not exit the station once you arrive at Gora, there are ample signs that will lead you to the next mode of transport i.e, Hakone Tozan Cable car.
D  Sounzan to Owakudani Station
We alighted at Sounzan station(you don't have to) to check out the views out of the station. It was like a hill station. We boarded the Cable car to Owakudani, it passed in moderate speed amongst hills with views of valley below which is a volcanic zone. The smell of Sulphur is strong here. Once we arrived in Owakudani we walked around the place. It is a hill station,temperature is low so you need a jacket here. Owakudani is connected to Togendai -Ko is connected by Cable car. But on the day we went it was closed due to repair works. There was a shuttle bus arranged by the Odakyu Service to Togendai-Ko. Before boarding remember to checkout the sovereign shop at Owakudani.
Romance Cyoar
Day 5
Sensoji Temple
Ameyoko street
Shinjuku
Have you tried a Kit Kat Sake?
Coincidence or planned? Everyone holding a blue umbrella.
<to be continued….>